for outside the waistband concealed carry
integrated pressure feature

for better weapon concealment
for comfortable wearing
filling the space under the belt
(more stable position on the belt)

faster application to the belt and removal from the belt thanks to our speedloops
hand polished edges
vacuum-pressed in special molds of our own production
the weapon is not holstered in parallel to the axis of the holster

the grip is pointing to the body
(better concealment and drawing out)

2,5mm thick kydex and ribbing

higher durability and stiffness

grip adjustment
adjustment of inclination
holds a weapon with a collimator or an extended barrel/thread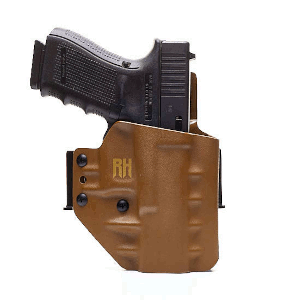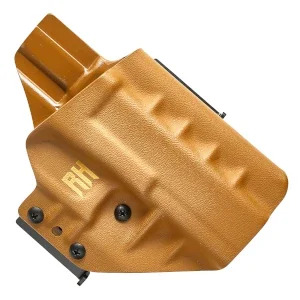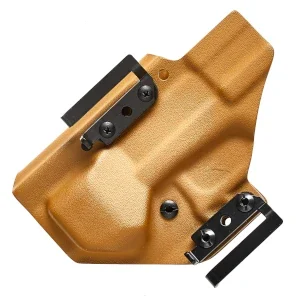 Frogy outside the waistband kydex holsters are designed for concealed carrying of the weapon under clothing and are designed to take up as little space on the waistband, while hiding the weapon even better and ensuring comfortable wearing. Hand cut edges for maximum comfort.  The shape of the holster is very precisely pressed into the kydex using special molds of our own production. The whole holster is made of one piece of 2.5 mm thick kydex in one color. Each Frogy holster has an adjustable grip using set screws and an adjustable inclination by moving the loop up or down.
The open design of the holster ensures comfortable cleaning and offers the possibility of carrying a weapon with an extended barrel /thread, compensator, etc. In addition, they are all ready for use with a collimator.
The weapon is not holstered in parallel to the axis of the holster:
In contrast to standard OWB holsters, the weapon in the Frog holster is turned with the grip towards the body. Thanks to this, the weapon fits better and is even better concealed.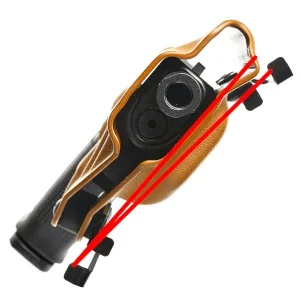 Ribbed holster:
Not only do we make Frogy of 2.5 mm thick kydex, but also the holsters are ribbed, which makes these holsters stiffer and more durable than other models.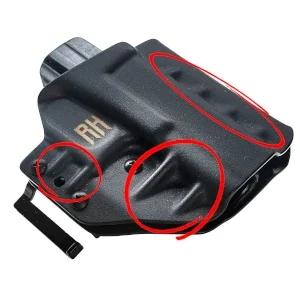 Adjustable grip:
Frogy OWB holsters have an automatic adjustment of the grip with a screw, when you control the grip of the weapon yourself, even regarding a weapon with a light.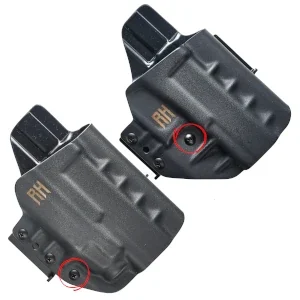 Belt attachment using speedloops:
Quick-fit steel loops. You put the holster straight on the belt without threading. It is necessary to have a belt that is a little loose and flexible. The loops hold a maximum of 7 mm thick belt. We recommend having loops as wide as your belts (if you have a 38-40 mm belt, choose 40 mm loops - this is the majority of the most modern-day belts). You can choose from sizes 40, 45 and 50 mm.
Sweatguard:
Back raised side of the holster, which separates your weapon from your body. Protects against sweat and slipping clothes into the holster when storing the weapon. We only supply Frogy holsters with a half sweatguard, which is best for concealed wear regarding outside the waistband holsters.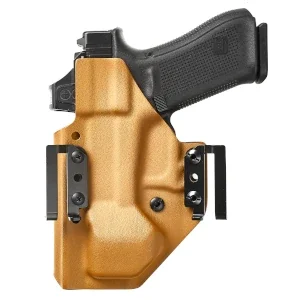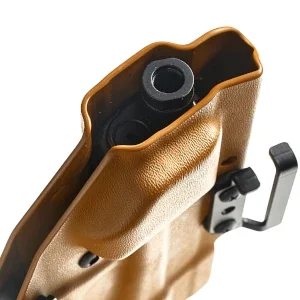 Compatibility:
You can easily insert a shorter G26 or a longer G17 into the Glock G19 holster, which will protrude from the holster. However, if you own, for example, a Glock 19 with a thread, the holster for the Glock 17 will protect not only your weapon, but also the thread - everything is so well-hidden.
Most popular models available so far:
Glock:

G17 (possible to use with G34,…) - both right and left
G17 + TLR7 (possible to use with G34,…) - both right and left
G17 + TLR1 (possible to use with G34,…) - right
G17 + GL19R (possible to use with G34,…) - right
G19 (possible to use with G17,…) - both right and left
G19 + TLR7 (possible to use with G17,…) - both right and left
G19 + TLR1 (possible to use with G17,…) - right
G19 + GL19R (possible to use with G17,…) - right
G43 / G43X / G43X rail (possible to use with G48 / G48 rail) - right

CZUB:

CZ P-10C / P-10S (possible to use with P-10F) - right
CZ 75D Compact (CZ 75 P-01) - right

Walther:

PDP 4" (possible to use with 4,5" / 5") - right

HS Produkt:
We will stock other models and holsters for left-handers.
For shorter weapons of the Glock G43 type, the length of the holster is longer to maintain the functionality of the elements for better and more comfortable concealed carry.
AVAILABLE KYDEX COLORS:
The color swatch is only indicative. Depending on the monitor settings, the displayed colors may not be accurate.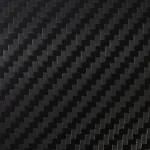 CARBON
Should you have any questions, or would like advice when choosing the holster, do not hesitate to contact us.