The inside belt holsters are designed to take up as little space as possible in the trousers. The hand-cut edges of the holster do not push into the leg or abdomen. The shape of the magazine is very precisely pressed into the kydex and fits perfectly into the holster. The whole holster is made of one piece of kydex of one color or motif. Each newly made inside holster has an adjustable grip, which is beneficial due to the wearing in the belt.
The kydex holster has a so-called disfigured construction, where the holster protects the weapon and at the same time it can be conveniently cleaned or rinsed. It is made of 2 mm thin but strong kydex, always of one color.
Where and how it is worn:
You can wear IWB holsters as a right-hander on your side at your 9 o'clock. The specialty of the inside holsters is that they are worn almost anywhere around the waist of the body. By wearing in trousers you achieve a real concealed wear with minimal emphasis of the worn magazine from clothes.
IWB holsters can be worn all year round, are especially practical in the summer, and they are best hidden under a T-shirt. For some customers, it is not as comfortable as other models, and needs to be got used to.
Types of belt attachment:
We offer steel clips to the inside holster, which are attached with Chicago screws with a nut. We offer two sizes of 40 and 45 mm. Choose the width of the clip according to the belt as accurately as possible, choose a 40 mm wide clip, for a 38-40 mm belt.
Flushclip
Simple, well-functioning steel clip, clicks quickly. Requires thicker belts (leather, reinforced and harder). The clip can hold a belt up to 10 mm thick.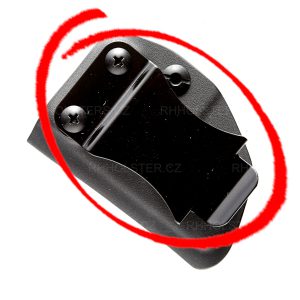 Sweatguard:
Rear raised side of the holster that separates the magazine from your body. It protects against sweat, inserting clothes into the holster when storing the magazine and also helps to guide the magazine into the holster more easily. Sweatguard cannot be made to holsters for smaller magazines. For larger ones, you can choose whether you want a variant with or without a full sweatguard.
IWB holsters are designed mainly for all-day concealed wear, so we recommend a sweatguard, the magazine is not in any contact with the body/clothing.
Should you have any questions, or would like advice when choosing the holster, do not hesitate to contact us.