For outside the waistband wear
concealed carry
low profile
suitable for a shooting range
universal
adjustable grip option
ERC option
vacuum pressed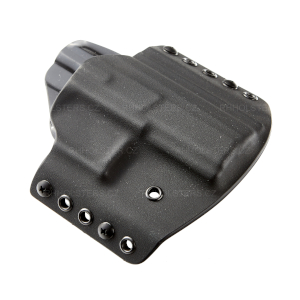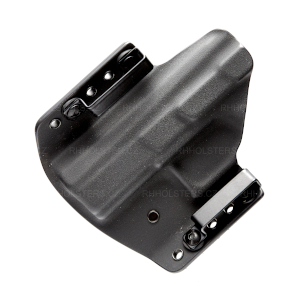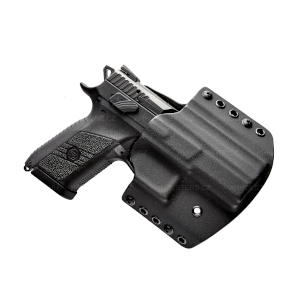 OWB holsters made of 2 mm thick Kydex fit the weapon of your choice perfectly because they are pressed at high pressure and exactly the right temperature. The holster has sharply detailed indentations that turn into round and smooth hand-cut edges. Each outside holster is made of two sheets of kydex. These are connected by hollow rivets. You can choose the color of each.
Where and how it is worn:
These holsters are most often worn at 3 o'clock (right-handers) and are especially suitable for concealed carry, but also for shooting ranges, training courses, LOS competitions (People's Defence Shooting), IDPA and are popular with the armed forces. They are more suitable for concealed wear in the colder months, when more layers and larger clothes are worn. Even though it is a low-profile holster and fits close to the body, it is harder to conceal it in summer. It is used for weapons of compact and fullsize sizes (for subcompacts in case you can't stand wearing it in pants, etc.).
Types of belt attachment:
You can choose which loops you want to fit to the outside holster. They are then mounted with screws and are a part of the package. It is advisable to add other sizes of loops to each holster according to the size of the belts you wear. We recommend having loops as wide as your belts (if you have a 38-40 mm belt, choose 40 mm loops - this is most modern-day belts). You can choose from sizes 40, 45 and 50 mm.
Loops
Classic steel loops that you have to thread through your belt. The belt should be flexible and 7 mm thick, at the most, otherwise you will not pass it through the shaped holster and loops.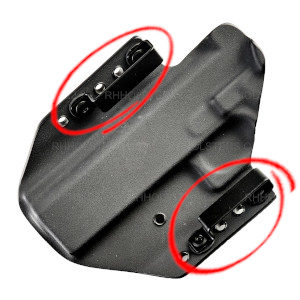 SpeedLoops
Quick-fit steel loops. You put the holster straight on the belt without threading. It is necessary to have a belt that is a little loose and flexible. The loops hold a maximum of 7 mm thick belt.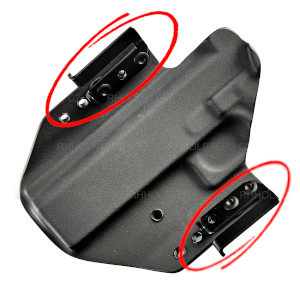 MOLLE malice clips
Special clips for internationally standardized MOLLE mount. The mounts also have a nylon clip for better fixation to a belt or vest.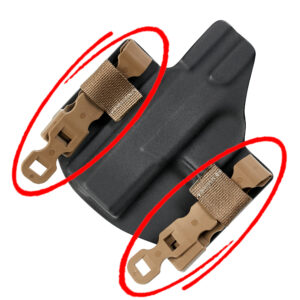 Sweatguard:
It separates your weapon from your body and is protection against sweat and clothing. It also helps to guide the weapon into the holster more easily. You can choose between holsters with a full sweatguard, half sweatguard and no sweatguard.
We recommend choosing a half sweatguard for OWB holsters. It separates the weapon well from the body and clothing, at the same time it does not interfere when there is no weapon in the holster and you move around the shooting range (for example you also kneel during the course and a holster with a full sweatguard would stab you in the body in non-standard positions such as tactical prone.)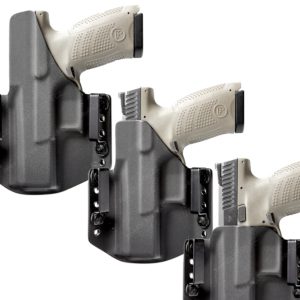 Inclination and configuration:
The standard inclination is 0° perpendicular to the ground. It is the most frequently requested and recommended variant. With such a holster, you can adjust the inclination by moving the loops down or turning them (they are not symmetrical). Carrying without a tilt has the advantage of a better access to the weapon and its faster drawing.
Adjustable grip:
Another extra thing you can do to improve the holster is to adjust the grip. This allows you to regulate how much the holster should hold the weapon. An adjustable grip cannot be applied to OWB holsters with a light, it is not possible due to its design. You also cannot use holsters with a light for a weapon without a light, as it would not hold in the holster.
Should you have any questions, or would like advice when choosing the holster, do not hesitate to contact us.