hybrid kydex / leather
worn inside the waistband
concealed carry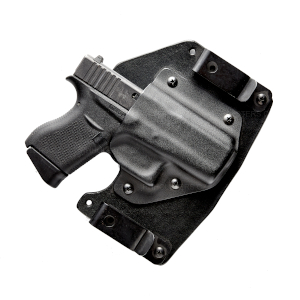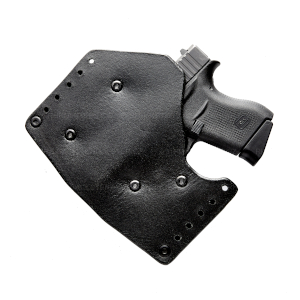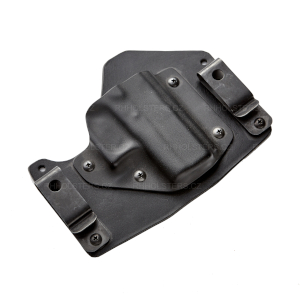 The inside hybrid kydex holsters are designed for concealed carrying of the weapon under clothing and are designed to take up as little space as possible in the trousers. The hand-cut edges of the holster do not push into the leg or abdomen. The shape of the weapon is very precisely pressed into the kydex and it fits perfectly into the holster. The whole holster is made of one piece of kydex and one piece of leather.
hybrid kydex / leather
worn inside the waistband
concealed carry
compact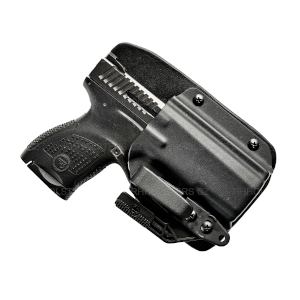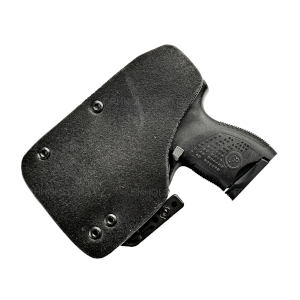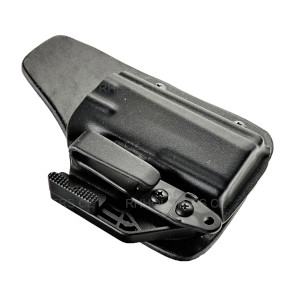 Where and how it is worn:
You can wear IWB holsters as a right hander on the side at your 3 o'clock or in the popular way of wearing an appendix carry (front on the abdomen). The specialty of the inside holsters is that they are worn almost anywhere around the waist of the body. By wearing in trousers, you will achieve real concealment wearing with minimal emphasis on the weapon worn from the clothes.
We personally recommend inside holsters for subcompacts and compacts (only some fullsize frames). IWB holsters can be worn all year round, are especially practical in the summer, and they are best hidden under a T-shirt. For some customers, it is not as comfortable as other models, and needs to be got used to.
Types of belt attachment:
You can choose from several steel clips for the inside holster. These are fastened with Chicago nuts and bolts. We offer two sizes of clips of 40 and 45 mm. Choose the width of the clip according to the belt as precisely as possible (for a 38-40 mm belt, choose a 40 mm wide clip).
Flushclip
A simple, well-functioning steel clip, clicks quickly. Requires stronger belts - leather, reinforced and harder. The clip can hold a belt up to 10 mm thick.
Ulticlip
Minimalist attachment of the holster by the hook behind the textile of the trousers (can be worn without a belt). You can wear a shirt tucked in pants, the so- called "tuckable style".
Ulticlip XL
Really strong and secure attachment of the holster to the 40 mm wide belt. It is possible to have a shirt tucked in the pants on the so called "tuckable" version of the wear. You will snap a maximum 10 mm thick belt into the clip.
Should you have any questions, or would like advice when choosing the holster, do not hesitate to contact us.